Check out Cesco's latest news section & find out more about our Manrose Ventillation & who Manrose are & how they started. Learn more here!
Wednesday 11th May 2022
Marose & CESCO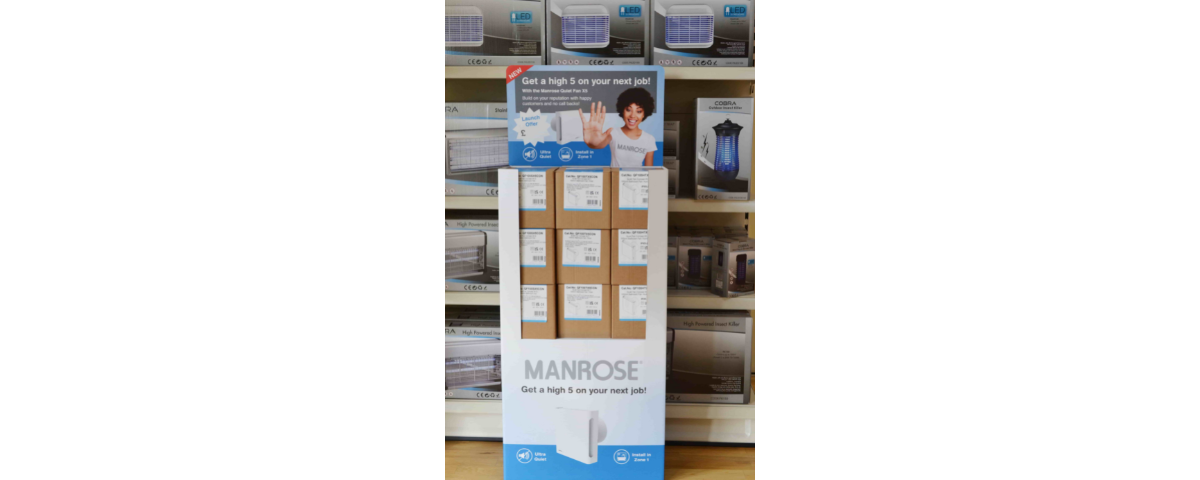 COVID lockdowns and restrictions have meant many people spent a lot of time at home. And with this, there has been an increase in home improvements with households spending the money they saved on their homes. This frequently includes a new bathroom, which offers a great opportunity for electrical wholesalers to increase fan sales, so it's important to ensure you have the right stock on your shelves. Lee Warren, Sales Director at Manrose, looks at the fan features and benefits to look out for.

Irish homeowners spent an average of over €5,000 on home improvements in 2020 according to the a survey carried out by Aviva. With the home improvement trend showing no signs of slowing, now is a great time to review stock and offer electricians products that will keep both them and their customers happy. This includes the latest bathroom fans which are an essential element of any bathroom renovation. Ventilation is vital to tackle condensation and mould, a common issue in bathrooms, as well as ensuring good indoor air quality (IAQ).
Reliability
Stocking reliable products is key. For electricians, fan reliability and no call backs are high on their wish list. Not only does it make their lives easier, but it also makes for happy customers too, which is essential for business reputation. So, it makes sense to use products from a company renowned for its reliability, that offers a good length warranty and who manufactures fans that are built to last. Manrose is known for its reliability. Its latest Quiet Fan X5 boasts Manrose's renowned reliability providing effective and efficient ventilation.
For strength and durability, the fan is manufactured using high gloss ABS thermoplastics and it complies with both Part F & L of the new Building Regulations. Meanwhile, its high quality, long-life motors are continuously rated and warranted for a minimum of 30,000 hours or three years. This all adds up to the Quiet Fan X5 being a great choice for both wholesalers and electricians to build their reputations and gain 5-star reviews and happy customers.
Peace and Quiet
But it doesn't end there. The Quiet Mark National Noise Report: Household & Workplace Pandemic-Recovery Survey, recently revealed that two thirds of 18–34-year-olds are willing to spend more on purchasing quiet appliances. When it comes to bathroom fans, nobody wants to listen to the annoying drone of a fan while taking a bath or shower.
Households are increasingly demanding quiet products for a peaceful home environment so fans with ultra-low sound levels are a good choice to stock. For example, the Quiet Fan X5 has an incredibly quiet running volume as low as just 25dB(A), whilst offering an impressively high extraction rate of 90m³/hr. This means moisture laden air is removed to avoid condensation and mould and IAQ is improved. And with everyone now more aware of the quality of the air they breathe because of COVID, fans that make a real difference to IAQ are sure to be in demand.
And when it comes to peace and quiet nobody wants to shout about energy bills either. With energy prices rising, households are going to be even more aware of running costs and will demand products that are cheaper to run. Wholesalers can therefore help electricians meet this demand by stocking fans that use a low energy motor, like the Quiet Fan X5, which has a maximum consumption of six watts and a low SFP of 0.24w/l/s. Having an energy efficient option like this will be sure to impress energy conscious households.But it doesn't end there. The Quiet Mark National Noise Report: Household & Workplace Pandemic-Recovery Survey, recently revealed that two thirds of 18–34-year-olds are willing to spend more on purchasing quiet appliances. When it comes to bathroom fans, nobody wants to listen to the annoying drone of a fan while taking a bath or shower.
Good looking
Another way electricians will be keen to impress their customers is by being able to offer an attractive fan. With an increased focus on interior design, consumers are looking for improved aesthetics of everything in the home, including bathroom fans. So, wholesalers who can stock a fan that enables electricians to give their customers a choice of style will score extra brownie points. For example, the Manrose Quiet Fan X5 is available in an attractive tiled version or an open grille option, both of which will look good in any bathroom.
Easy install

While wholesalers need to stock fans that electricians' customers desire, they also need to consider what electricians look for in a fan to help ensure good sales. Ease of install is therefore key. Fans like the Quiet Fan X5 that are suitable for both wall and ceiling mounting for install flexibility will always go down well with installers. Add to that the Quiet Fan X5's IPX5 rating which makes fitting the fan even easier and safer, since the fan can be safely installed in the splash zone without the need for a low voltage transformer. It also means fans like the Quiet Fan X5 are ideal for bathrooms and shower rooms of all sizes. A quick install also generally means less mess.

A range of control options also makes install easier and so is another tick when it comes to choosing which fans to stock. A choice of control options such as basic, timer, humidistat and PIR is handy. The Quiet Fan X5 offers all these options, comes complete with integral backdraught shutters and is double insulated so does not require an earth.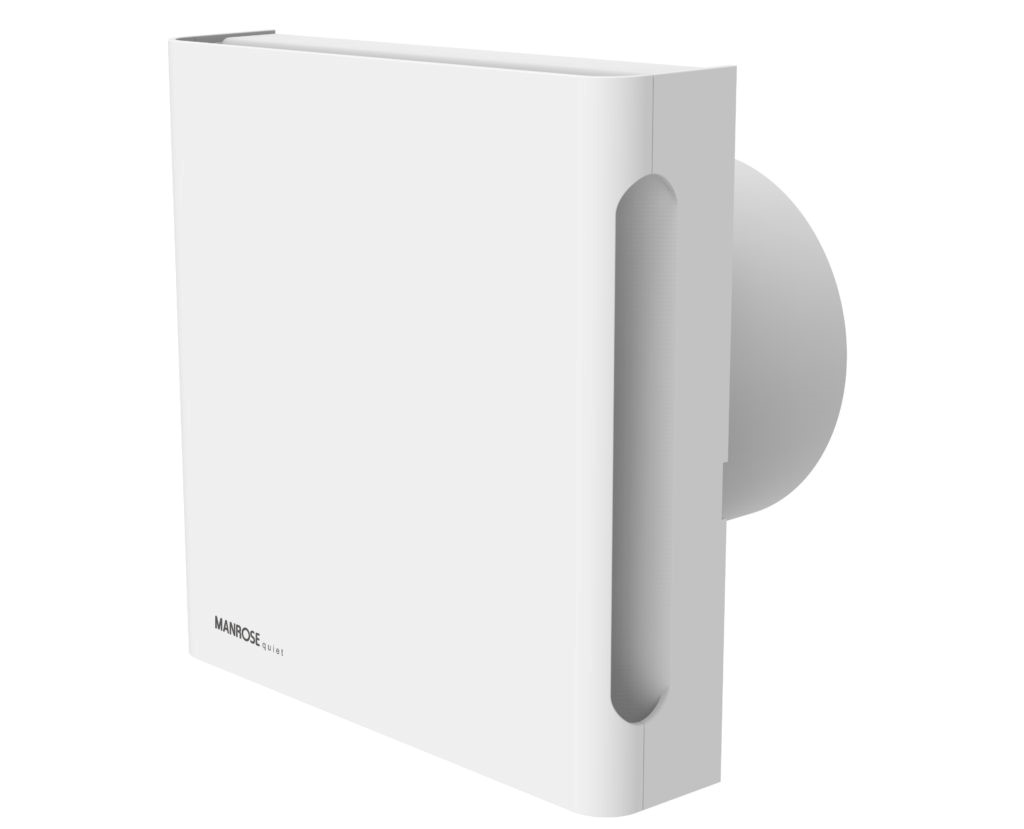 Environmental Credentials
As well as choosing fans that offer great features, it's also important to know that you have chosen a manufacturer with good environmental credentials. For example, 100% of Manrose's PVC ducting is made from recycled window frames. Meanwhile, Manrose uses plastics extracted from old fridges collected from customers' homes to create ducting components. In addition, Manrose has invested in new energy efficient moulding and tooling equipment for its manufacturing site offering increased supply capacity based on demand, while reducing its impact on the environment. Wholesalers can therefore be assured that with Manrose they are making a good environmental choice too.
So, for wholesalers, it is important to consider all the different factors to ensure they stock the right fans that meet the demands of both electricians and households, which is a great way to maximise sales. For example, the Quiet Fan X5 bathroom fan ticks all the right boxes, offering robust reliability, great performance, ultra-low sound levels and ease of install. As a result, electricians are set to benefit from fewer call-backs, more happy customers and improved 5-star review ratings which in turn means wholesalers have happy customers too.
For further information on all Manrose products and services offered by CESCO click
Extractor Fans & Ducting | Extractor Grilles | In Stock - CESCO
First published in Professional Electricians Wholesaler